Inground Swimming Pool Removal; FREE estimate….904-751-2177
The project was completed in Neighborhood of Orange Park FL. The location of the project was located at 1712 Poplar Dr. 32073.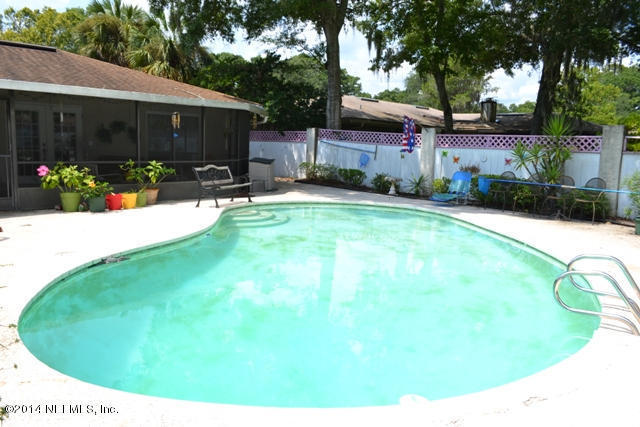 Swimming Pool Removal Orange Park Florida
Time to remove your swimming pool?
Dependable Demolition will give you the reliable and comprehensive service at an affordable rate. Removing your swimming pool can reduce hazards and liability, expand the number of potential homebuyers, eliminate costly upkeep and give you more yard space for lawn activities.
Dependable Demolition specializes on cost effective concrete removal to save you time and money. With our experience, we can demolish and fill in any size in-ground or above-ground swimming pool.
Call us toll free 904-751-2177 and get your yard back.
How to Remove a Swimming Pool
First, Dependable Demolition researches the permits and stipulations of your area before we begin removing your swimming pool.
Then we drain the swimming pool by drilling through the concrete, allowing the water to escape.
Next, we remove the structure and fill in the open space.
Partial Pool Removal
A simple and less costly method of pool removal is the partial swimming pool removal. For this method, concrete is removed while the rest of the pool area is packed with gravel and soil.
Full Pool Removal
We can also provide a full demolition and removal of your swimming pool. Instead of simply removing the top few feet of concrete, the entire structure is broken up and removed.
Disposal
Excess concrete will be recycled and reused, saving you money and keeping concrete out of landfills. We guarantee a thorough job with minimum environmental impact for any budget.
Easy no obligation quote at 904-751-2177.
http://qpublic6.qpublic.net/fl_display_dw.php?county=fl_clay&KEY=05-04-26-020177-165-00
Serving North Florida and South Georgia
Atlantic Beach, Bryceville, Callahan, Doctors Inlet, Fleming Island, Jacksonville, Jacksonville Beach, Middleburg, Neptune Beach, Orange Park, Ponte Vedra, Ponte Vedra Beach, Saint Johns, Atlantic Beach, Bryceville, Callahan, Fernandina Beach, Hilliard, Kings Bay, Kingsland, Saint Marys, Woodbine, Yulee, Brunswick, Crescent, Darien, Hortense, Jekyll Island, Meridian, Saint Simons Island, Sapelo Island, Sea Island, Waverly, Waynesville, White Oak, Barberville, Bunnell, Daytona Beach, Flagler Beach, Hastings, Ormond Beach, Palm Coast, St. Augustine, Atlantic Beach, Jacksonville, Jacksonville Beach, Neptune Beach, Ponte Vedra, Ponte Vedra Beach, Saint Johns, Green Cove Springs, Keystone Heights, Penney Farms, Lake Asbury, Bellair-Meadowbrook Terrace, Belmore, Clay Hill, Hibernia, Lake Geneva, Lakeside, McRae, Oakleaf, Virginia Village, Country Club Estates, Dock Junction, St. Simons, Sterling, Colesburg, Clark's Bluff, Dover Bluff, Harriett's Bluff, Hopewell, Jerusalem, Spring Bluff, Tarboro, Macclenny, Glen St. Mary, Olustee, Sanderson, Daytona Beach Shores, DeBary, DeLand, Deltona, Edgewater, Holly Hill, Lake Helen, New Smyrna Beach, Oak Hill, Orange City, Port Orange, South Daytona, Pierson, Ponce Inlet, Palatka, Interlachen, Pomona Park, Welaka, Bostwick, East Palatka, Grandin, Georgetown, Florahome, Hollister, Interlachen, Lake Como, Melrose, Putnam Hall, San Mateo, Satsuma
32003, 32004, 32006, 32007, 32009, 32011, 32030, 32040, 32043, 32050, 32063, 32065, 32067, 32068, 32072, 32073, 32079, 32081, 32082, 32087, 32095, 32099, 32201, 32202, 32203, 32204, 32205, 32206, 32207, 32208, 32209, 32210, 32211, 32212, 32214, 32216, 32217, 32218, 32219, 32220, 32221, 32222, 32223, 32224, 32225, 32226, 32227, 31547, 31548, 31558, 31569, 32034, 32035, 32041, 32046, 32097, 32228, 32233, 32277, 31304, 31305, 31319, 31327, 31520, 31521, 31522, 31523, 31524, 31525, 31527, 31543, 31547, 31548, 31558, 31561, 31565, 31566, 31568, 31569, 32105, 32110, 32112, 32114, 32115, 32116, 32117, 32118, 32119 32120, 32121, 32122, 32123, 32125, 32126, 32127, 32128, 32130, 32131, 32132, 32135, 32136, 32137, 32138, 32139, 32140, 32141, 32142, 32145, 32147, 32148, 32149, 32157, 32160, 32164, 32168, 32169, 32170, 32173, 32174, 32175, 32176, 32177, 32178, 32180, 32181, 32185, 32187, 32189, 32190, 32193, 32198, 32084, 32085, 32092, 32229, 32231, 32232, 32235, 32236, 32237, 32238, 32239, 32240, 32241, 32245, 32246, 32247, 32656, 32666, 32706, 32713, 32720, 32721, 32722, 32723, 32724, 32725, 32728, 32738, 32739, 32744, 32753, 32759, 32763, 32764, 32774
Duval County, St. Johns County, Nassau County, Flagler County, Camden County, Glynn County, Clay County, Baker County, Volusia County, Putnam County